On January 20, an hour before Joe Biden's inauguration, Donald Trump is due to fly to Florida aboard the presidential plane.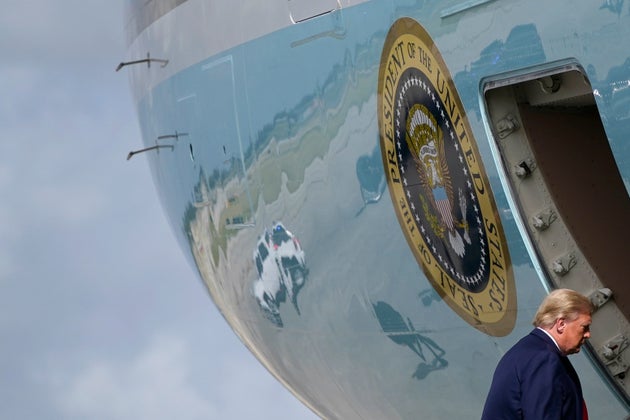 UNITED STATES – Until the end, he intends to take advantage of the advantages of the presidency. Donald Trump, who will not attend Joe Biden's nomination on Wednesday, January 20, is expected to use presidential Air Force One an hour before his successor's swearing-in to fly to Florida. 
According to CBS , Donald Trump is expected to land in West Palm Beach, Florida at 11 a.m. Wednesday morning, an hour before he is officially President of the United States. 
The Bloomberg site also mentions a final departure ceremony at 8 a.m. on the Andrews military base in Maryland, where the two planes used by the presidency are stationed. Invitations were reportedly sent to a few « supporters, including former members of his administration, » Bloomberg reports. No details on the content of this ceremony have filtered.
Traditionally, former presidents leave the White House on their own. 
The White House has not confirmed the information, which does not appear in the schedule – laconic for more than a week – of the Republican. On condition of anonymity, an official source told CBS that "this could always change".  
At 12 noon (Washington time), Donald Trump will be officially stripped of his title of "commander-in-chief of the armies" and will therefore no longer have access to the presidential planes.
Trump, the great absentee of the last few days
Officially a resident of Florida, Donald Trump will undoubtedly spend a few days in his hotel in Mar-a-Lago. The roads leading to the establishment will also be closed on January 20 and for several days. "Beyond that, we do not envisage any closures linked to the presence of a former president," said local police.
and then? Difficult to say, since the speeches of Donald Trump – deprived of his favorite communication platforms – have become extremely rare. But the idea of a candidacy in 2024 is gaining ground – on condition, however, that the second impeachment procedure launched against him ends in failure. 
Meanwhile, in a White House that is gradually emptying, Vice President Mike Pence appears every day a little more like the man in charge.
On Thursday, he congratulated the future vice-president Kamala Harris by phone, a source familiar with the matter told AFP on Friday. It was their first exchange since their fall debate in the heart of the campaign. He also planned to participate in the inauguration ceremony, like former presidents Barack Obama, George W. Bush and Bill Clinton. 
Source: HuffPost with AFP