Many WhatsApp users are currently abandoning the messaging app and migrating to Signal, a more secure and privacy-friendly solution. We explain how to switch easily from one mailbox to another. null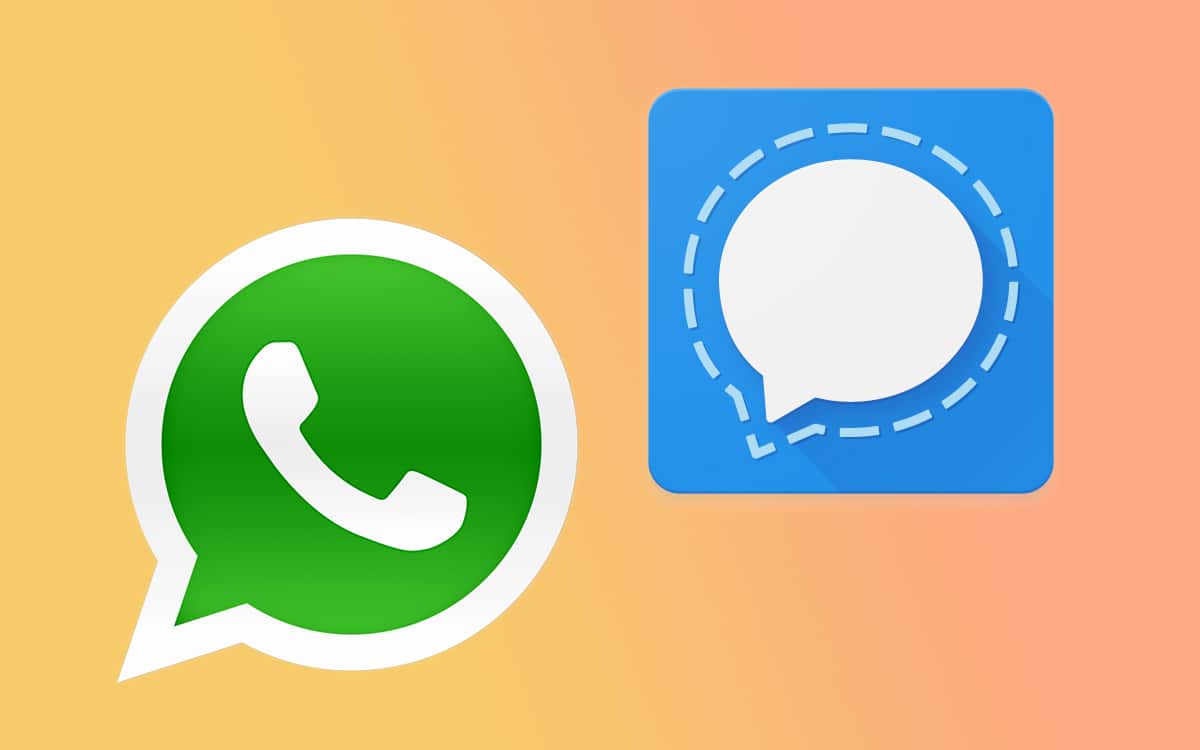 In early January 2021, WhatsApp updated the terms of service for the instant messaging app. Concretely, WhatsApp will now share all your personal data automatically with Facebook , its parent company. In 2014, the Californian social network had indeed bought the messaging application for the sum of 16 billion dollars . Among the data that will be collected by Facebook, we find in particular " the time, frequency and duration of your activities and interactions", "your IP addresses and other data such as the geographic codes of telephone numbers and your general location (city and country) " or" your profile picture ".If you refuse these new conditions, WhatsApp reserves the right to close your account as of February 8, 2021 .
However, European WhatsApp users are not in the same boat as Internet users from the rest of the world. In Europe, the General Data Protection Regulation (GDPR) indeed prevents Facebook from dictating its conditions to users. " It has been incorrectly reported that the latest Terms of Service and privacy policy require users in the Europe region to agree to sharing data with Facebook for advertising purposes if they want to continue using the service"says Niamh Sweeney, WhatsApp privacy manager for Europe, Middle East and Africa, on his Twitter account. Despite everything, Mark Zuckerberg, founder of Facebook, intends to strengthen the links between all the applications of the group. The CEO does not hide his intention to merge the messaging services of WhatsApp, Instagram and Facebook Messenger .null
Why do WhatsApp users switch to Signal?
Regardless, the changes made by WhatsApp have generated a veritable exodus of users to Signal , a messaging app known to protect the privacy of its members. As of January 7, Signal recorded an explosion of registration requests . A few days later, Signal established itself as the most downloaded app on Android and iOS around the world . Tesla CEO Elon Musk even recommended internet users migrate to Signal.
Like WhatsApp, Signal lets you exchange messages, photos, videos, or make audio and video calls with your contacts. But unlike the messaging app bought by Facebook, Signal is regularly praised for its respect for the privacy of its users . In 2020, the Mozilla Foundation named Signal "the most secure communication application" . Under these conditions, it should come as no surprise that many Internet users now prefer Signal to WhatsApp. If this is also your case, we explain how to migrate easily below.
How to install Signal?
Installation and registration on Signal only takes a few minutes. It only takes a few moments to be able to get in touch with relatives who have already joined the secure messaging application. We explain all the steps below:
Download Signal from the Play Store or the App Store
Accept to receive Signal notifications on your smartphone
Grant access to your contacts
Enter your phone number
Signal will send you a 6-digit code per message
Enter this code in the app
Set a PIN code as a password
Add the contacts proposed by Signal
How to quit WhatsApp?
As a second step, you will obviously have to give up and delete your account on WhatsApp. But before you permanently delete your account, you will be advised to import your WhatsApp group into Signal . For that, it is necessary that all the members of the group have already joined Signal. You will therefore first have to convince your relatives to migrate. Once it's done, follow the manipulation below:
Open Signal
Tap the pen icon in the top right
Click on New group
Select group members
Give the group a name
Click on the group name at the top of the screen
Go to Group link
Check Group link
Copy the link offered by Signal and forward it to your WhatsApp group
Once your group members have found themselves on Signal, you can finally delete your WhatsApp account . Here's how to do it:
Open the WhatsApp application on mobile and go to Settings , at the top right of the screen
Go to Account > Delete my account
Then follow the instructions on the screen to validate the deletion of your account.
Source: phonandroid